Olly's Story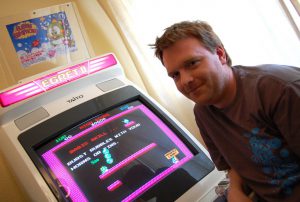 I first heard about Sky Skipper from Alex a few years ago, we've spent many hours discussing Nintendo, and in particular their rare and unreleased arcade games. I'd seen a small image of the flyer but nothing else, and having tried the game in MAME, wondered where that ROM was found and why the cabinet had never been seen, as a few must have been built – even if just for the picture on the flyer.
I've always been interested in rare and unusual games that may not have seen a full release or are different versions from those we saw in the arcade back in the day, and seeing them preserved so people can try them out. One of my most treasured arcade items is a prototype Bubble Bobble 2 PCB, which is totally different from the full release game and so when Alex told me what he was wanting to see Sky Skipper live again, I said I'd love to be involved.
I've always loved Nintendo's arcade artwork.  For me, a Donkey Kong cabinet is the pinnacle of arcade design and really set the standard for everything that followed. The vibrant blue of the cabinet and the eye catching cartoon style artwork that covers it is beautiful – and is instantly recognisable. I spent a long time trying to track down a nice one for my own collection, and it always gets a comment from people who see it whether they are gamers or not.
When I saw the artwork on the Sky Skipper flyer, and the little image of the cabinet I could see it was another amazing piece of Nintendo artwork – and one that looked like it hadn't just been roughly sketched out for the flyer photo, but was actually a complete set of gorgeous hand drawn artwork! This was a set that just *HAD* to be brought to life again. I said to Alex if he could somehow find an original flyer that I could take a high resolution scan from then I would have something to work from and attempt to recreate it in full size for as much of the artwork that was available, and unbelievably within a few weeks he had managed to get one.
Once I had the scan done I was able to make out some of the detail of the cabinet, but unfortunately it was in black & white, and still very small, so getting anything close to accurate artwork from it was going to be near impossible. At that point it seemed the only option to allow Sky Skipper to live again would be to use a lot of 'artistic license' and 'best guess' as to what what the images, colours and text were…but as things turned out before long, I was going to see far more of the original artwork than I could EVER have imagined….