Time waits for no man, and it's holding true as we speak…
We are 2 weeks (TWO WEEKS!?!) away from the big US reveal event at the Southern-Fried Gameroom Expo in Atlanta, GA and the cabinet build is picking up at a pretty frantic pace. Rich @ ThisOldGame has delivered a good bit of the final artwork package (what I can show of it right now is below) and the balance is due in within the next couple of days. His work is beyond belief good – we can't wait for everyone to see this!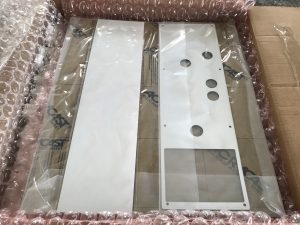 We are busy going through the electronics on the game, such as rebuilding the power supply (a couple of them, actually) and going through the Sanyo 20-EZ monitor with a cap kit and all new internals so the we (hopefully) do not find ourselves in a 'monitor event' over the course of the weekend. The last thing we need is the monitor going out for a couple of tacos and a cigar – that makes a lot more sense after listening to ep.54 of the podcast, btw.
Work will continue non-stop over the Memorial Day weekend as there's a lot more to get sorted and organized ahead of landing at SFGE… we're working on event T-shirts, trading cards, banners and signage and a few other items that we'll hold for the "day-of" the event.
Until then, soak up some fun for the rest of us and we hope to see you in Atlanta!